Relaxing Facial Steam Recipe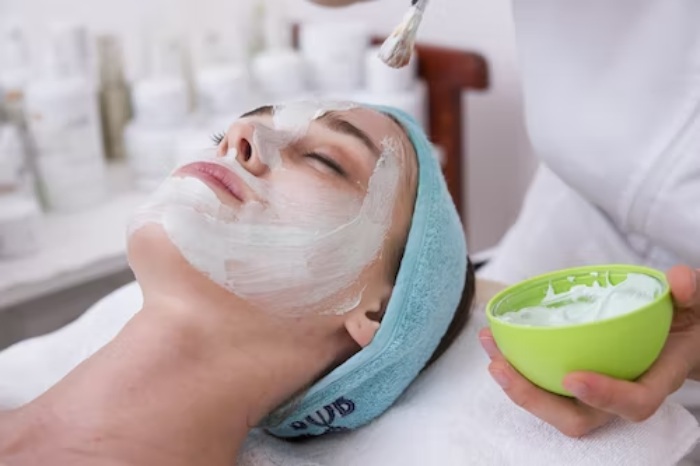 A facial steamer remains an easy way to deep clean your skin using the benefits of Facial Steam. It is a beautiful ritual that brings you calm and relaxation. A facial mist helps you clean the skin's pores and stimulates blood circulation. The steam opens the pores and eases the cleaning of impurities.
My proposal is aromatic facial steam with flowers and plants to increase cleansing benefits. The moisture causes the flowers, herbs and plants to release their aromatic and therapeutic molecules on your skin. Each plant will provide your skin with different benefits
Plants and Flowers that You Can Use To Make Your Facial Steam
You can use a single plant or flower in facial steam or mix and create your aromatic cleansing synergy.
You can use fresh plants that you grow yourself in your garden or even in the window or that you can buy at a florist. You can pick lavender, rose, mint, chamomile, rosemary, thyme, marigold, or pansy.
You can also make your facial steam with dried flowers and herbs, which you can buy at any herbalist in your neighbor hood. You will indeed find mallow, cornflower, sage, basil, eucalyptus, echinacea, lemongrass. With tea or infusion bags, you can also make your facial steam: Green, white, black or chai tea, infusions of chamomile, linden, mint or rosemary.
Citrus peels are also great for enjoying a cleansing session with the scent of orange, lemon, or tangerine. Plus, they will stimulate and cleanse your skin. The aroma of orange and tangerine is calming and relaxing, and the smell of lemon promotes joy.
 Which Plants are the Best For your Skin
Sensitive and Delicate
The gentlest steam cleaning you will have if you use calendula, chamomile, sage, rosemary and mallow flowers. Calendula and chamomile flowers are especially suitable for sensitive and damaged skin. Both have anti-inflammatory properties, just like sage. Rosemary is softening and repairing and combines very well with sage, which also has these properties. Melva flowers also have anti-inflammatory properties due to the high amount of mucilage that the plant contains.
Only Skin
If this is your skin kind, you need to use plants with antibacterial and astringent properties that help close the pores after cleansing. In this case, the most suitable plants for you are thyme, mint, pansy, basil, lemongrass, eucalyptus, lemon or grapefruit peel, but calendula and nasturtium flowers are also antiseptic, and yarrow is highly astringent, as are the leaves witch hazel and geranium. Also, making your facial steam with chai tea bags and rose leaves will help you deep cleanse and close the pores of your skin.
Dry Skin
For dry skin, you can make your facial steam with chamomile flowers, roses, calendula and lavender (leaves). Rose petals are also indicated for sensitive skin; they calm and soften the skin and give off a spectacular aroma. Dry skin tends to be more damaged skin due to lack of hydration, which is why chamomile and calendula flowers help reduce the damage of cracked skin.
Normal Or Combination Skin
If this is your case, you can create your mixture with lavender flowers, roses, geranium, basil, or combine mint, lemongrass and thyme. And if you also add some orange or lemon peel, you will enjoy some aromatic molecules that will cleanse your skin in addition to a refreshing aroma.
Mature Skin
Green tea, along with white tea, is the most antioxidants. Simply using a few bags of any of these teas, you will have facial steam to help your skin regain vitality. You can also use roses. Their petals illuminate and tone tired skin. Combine rose petals with geranium flowers and lavender and mauve; the latter will give softness to your skin.
Relaxing Facial Steam Recipe
And finally, I share with you a recipe for a relaxing facial session. I propose creating an aromatic mixture that will help you calm your mind and disconnect. Enjoy the moment when you prepare your flowers until you finish your relaxation session.
Place a mixture of the following flowers (fresh or dried) in a bowl: lavender, lemon balm, chamomile, mallow, and tangerine or orange peel. Mix well.
Boil water in a saucepan and add it to the bowl where you have the flowers. Let cool a bit.
Place the bowl under your face at a sufficient distance so that the steam does not damage your skin. Put a towel over your head and the bowl to create a steam bath and prevent steam from escaping.
Breathe slowly and relax. You can put on some music that you find pleasant to help calm your mind. The recommended time for a facial steam bath is between 5 and 10 minutes.
Once you finish your moment of relaxation, you can apply rose water to your face. It will help you close the pores due to its astringent effect. In addition, rose water can be used for any skin type, even sensitive and delicate ones.
I Hope you Like this Recipe, and It helps you keep your skin healthy and balanced.
Suppose you want to take care of your skin with natural ingredients and thus stop using toxic ingredients for your health and the planet. Make your homemade natural cosmetics simple, effective and without complications. If you think that making cosmetics at home is complicated, I have prepared an online course to learn how to make your homemade natural cosmetics. Step by step, and from the beginning, I will answer your questions in the online sessions that I have prepared for you. You canister now sign up for the first edition of my Homemade Natural Cosmetics Online Course.
Also Read: Here Some  Home Remedies Will Make Your Skin Look More Radiant